Construction
Growing demand for skilled trades construction workers sees wages rise
Individuals working in construction build our homes, schools, and workplaces. There are literally dozens of career opportunities in this broad but ever-growing skilled trades area that includes electricians, carpenters, plumbers, steamfitters, ironworkers, and more.
Although construction is a widely recognized skilled trades area, it's hardly set in stone. New occupations continue to emerge as the industry rapidly modernizes to meet the evolving needs of clients in a variety of sectors.
At the same time, there's a growing – and borderline concerning – shortage of workers in this area. That means college graduates with diplomas, certificates, or degrees in an applicable field will likely have their choice of high-paying and engaging careers.
Facts to consider
More than a quarter-million construction workers are expected to retire by 2029. As a result, it's anticipated there will be a shortage of 82,000 construction workers by 2029.1
According to EllisDon, a major Canadian construction and building services company, that worker shortage could reach 100,000 by 2031.2
As of 2021, Canada's federal government has committed $180 billion to national infrastructure improvements that include upgrades to roads, bridges, water systems, and public transportation.3
The average hourly wage for construction workers reached $33 in 2019, up 10% from $30 in 2015.4
One-third of businesses in construction say their number-one challenge is recruiting skilled trades workers.5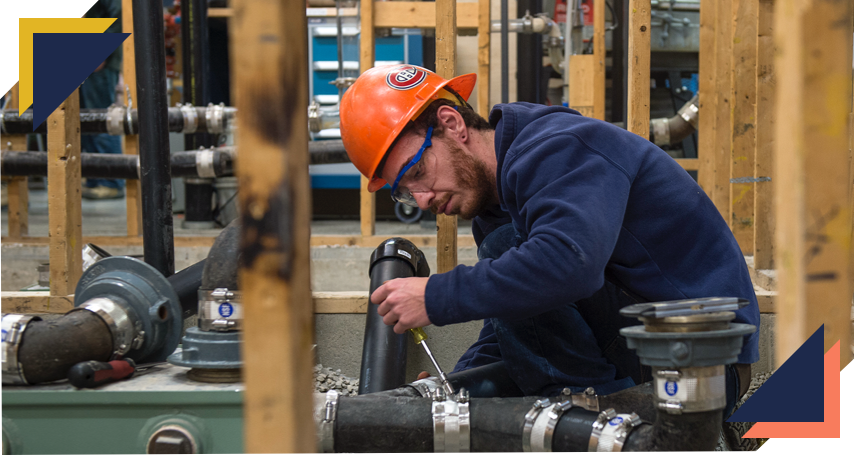 How an Ontario college can help you get started in construction
A growing number of Ontario colleges offer programs designed to prepare students for a career in construction. A diploma, certificate, or degree in these areas can give you a leg up in pursuing apprenticeships or entry-level positions with prominent construction organizations. At the same time, credentials from an Ontario college can help existing construction employees elevate their careers through a promotion.
Below, you'll find just a few sample programs that can help you start or elevate your construction career.