The Apprenticeship Process
Navigating apprenticeship and starting your trades career
In Ontario, the apprenticeship process involves two key parts: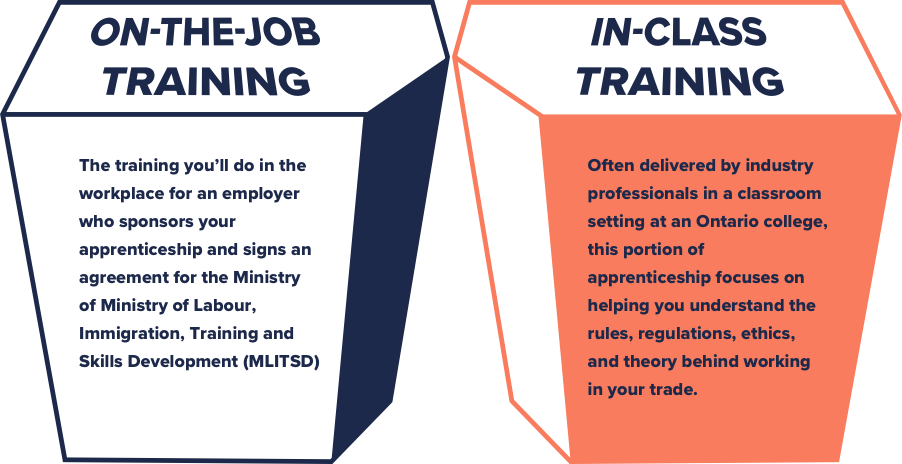 On-The-Job Training
The training you'll do in the workplace for an employer who sponsors your apprenticeship and signs an agreement for the Ministry of Ministry of Labour, Immigration, Training and Skills Development (MLITSD).
In-Class Training
Often delivered by industry professionals in a classroom setting at an Ontario college, this portion of apprenticeship focuses on helping you understand the rules, regulations, ethics, and theory behind working in your trade.
Apprenticeship programs can last anywhere from two to five years. The good news: apprentices can earn a wage while they work towards their Certificate of Qualification. Typically, those wages increase the longer you work in your chosen field and as you complete in-school training, such as through an Ontario college.
During your apprenticeship, you'll likely complete between two and three stages of in-school training: Level 1 (Basic), Level 2 (Intermediate), and Level 3 (Advanced, and in some cases, not required). Once these levels are finished, you'll become a journeyperson – for any apprentice, a huge deal and reason for celebration.1
While in-class training is very important, keep in mind that most of your training will be done in the workplace. For example, Automotive Service Technicians must complete 6,500 hours of 'on the job' training, representing about 90% of the requirements for that apprenticeship program.2
Ways to an Apprenticeship in Ontario
While the concept of apprenticeship is simple – new tradespeople work closely with an experienced trades professional to learn their chosen trade and industry – accessing an apprenticeship can be complicated. This complexity often depends on the trade you choose, including if you decide on a compulsory or non-compulsory trade.
Exploration
Work with an expert – such as a high school guidance counsellor, college career centre representative, or Government of Ontario employment counsellor – to explore the trades and find one that aligns with your goals for the future.
Work with a guidance counsellor, college career centre rep, or employment counsellor to find an employer willing to hire you on for a co-op placement.
The government's Ministry of Labour, Immigration, Training and Skills Development (MLITSD) can provide you with an Application for Apprenticeship Training form that, once completed by you and your employer, will register you to become an apprentice in Ontario.
Preparation
Work with your high school guidance counsellor, a college advisor, or an OCAS Contact Centre advisor to find and apply to a program in your trade.
Through an Ontario Youth Apprenticeship Program (OYAP) and while still in high school, you can participate in a Dual Credit Level 1 Program that will see you complete a full semester of cooperative education in a trade, with part of your time dedicated to in-school training at a partner college.
Use a pre-apprenticeship program to complete your OSSD or equivalent because this is often a requirement for entering a trade.
Completion
Work with an employer to increase your on-the-job training hours, which can be put towards completing the requirements of a Certification of Qualification exam.
This includes all training hours and in-class training.
Congrats, you're now a certified journeyperson! Keep in mind that all compulsory trades require you to complete and pass this exam to work in your trade. Also, some non-compulsory trades – like Agricultural Equipment Technician and Appliance Service Technician – offer certifying exams and Certificates of Qualification.3