School to Work Transition
Ontario Youth Apprenticeship Program (OYAP)
The Ontario Youth Apprenticeship Program is a government-funded program designed to help high school students explore apprenticeship and skilled trades career opportunities. It introduces the apprenticeship process at an early age to simplify the many complex pathways into a skilled trades career.
OYAP enables students to earn credits towards their Ontario Secondary School Diploma (OSSD) by taking a cooperative education course (co-op) for which the community component is in an apprenticeship. For a prospective skilled trades professional, the primary value of OYAP is gaining exposure to a trade and its associated career possibilities. In other words, it's a great way for prospective apprentices to get experience and 'test drive' a potential career.
So, if you're in high school and already know you want to start a skilled trades career, there's no reason to wait until you have a secondary school diploma in-hand. Through the OYAP, students in secondary school can become registered apprentices and start putting hours towards completing their apprenticeship.
The advantages of participating in the OYAP:

You'll get real, hands-on training in your trade of choice

You'll build a relationship with your employer and you may have the opportunity to advance your training with them, such as through a full apprenticeship

You may be given the opportunity to enter a registered trade agreement (RTA), through which you can participate in more advanced work opportunities and even complete Level 1 of your in-class apprenticeship training – a huge head start for individuals still in high school
Qualifying
To qualify for OYAP, you'll need to be:
At least 15 years of age
Studying part time or full time in high school
Be enrolled in a secondary school or the adult equivalent
Have earned at least 14 high school credits
Getting started
You can learn more about the Ontario Youth Apprenticeship Program by visiting their website. They can help you find and reach out to an OYAP recruiter in your region and get started.
Apprenticeship for OYAP Students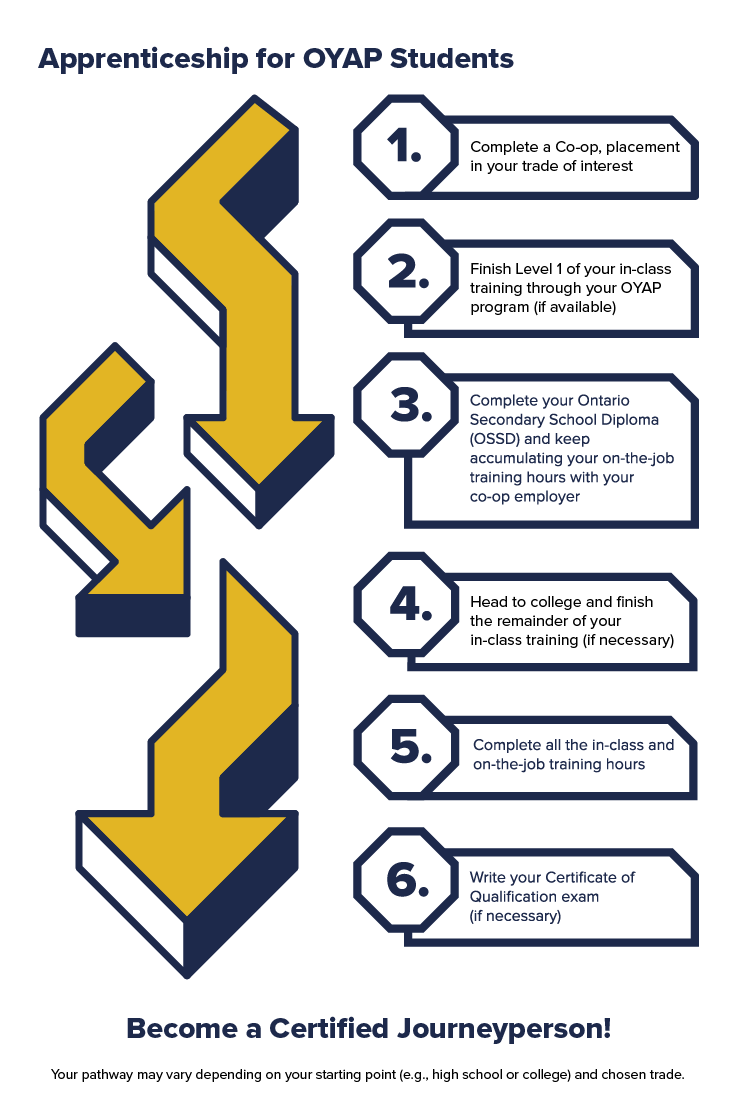 Complete a co-op opportunity in your preferred trade

Finish Level 1 of your in-class training through your OYAP program (if available)

Complete your Ontario Secondary School Diploma (OSSD) and keep accumulating your on-the-job training hours with your co-op employer
Head to college and finish the remainder of your in-class training (if necessary)
Complete all the in-class and on-the-job training hours
Write your Certificate of Qualification exam (if necessary)
Become a Certified Journeyperson!



Your pathway may vary depending on your starting point (e.g., high school or college) and chosen trade.